Henry Roe Cloud
     The Henry Roe Cloud Conference started in 2005 to celebrate Native excellence at Yale through honoring the legacy of Henry Roe Cloud, a Winnebago alumnus who graduated from Yale College in 1910. With his Yale degree, Roe Cloud became a prominent educator and national advocate for Native American people, making him a symbol of Indigenous excellence that students today strive to emulate. The Association of Native Americans at Yale hosts Henry Roe Cloud conference every few years to bring together Native students, alumni, faculty, and community members. The fifth Henry Roe Cloud Conference will be happening on the weekend of November 10th, ending with a powwow on Sunday, November 12th. Keep checking this page for updates regarding the schedule. Our Native community has grown tremendously since Roe Cloud graduated in 1910; browse the NACC website to learn more about the Association of Native Americans at Yale, the Native American Yale Alumni, and the Native American Cultural Center. For questions about this year's conference, email roecloud2017@gmail.com.
Preliminary Conference Schedule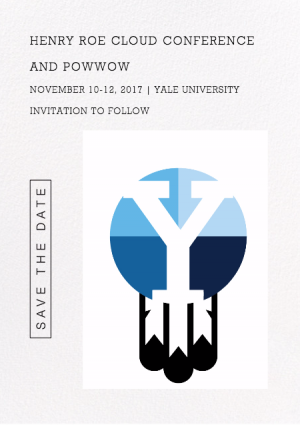 Friday, November 10th
At 4:00pm, join the Association of Native Americans at Yale to see a Native scholar discuss their life and work during a College Tea.
At 6:00pm - 10:00pm, register for the conference and take a tour of the Native American Cultural Center.
Saturday, November 11th
Saturday's activities will include panels, speeches, a keynote address. An alumni panel featuring community members present in various eras of Native community at Yale will speak to how the Native community has grown and changed. A panel of students, faculty, and community members currently involved in the Native American Cultural Center will discuss the present and future of the NACC regarding the current state of the NACC, expansion of the community, and future goals.
At 6:00pm, all attendees are invited to a formal dinner where ANAAY will announce the winners of the Henry Roe Cloud Distinguished Alumni and Friend of the Community Award. 
Sunday, November 12th
At 12:00pm, ANAAY will start our 6th powwow! All are welcome.
If you are an interested vendor, click here to download our vendor application. Completed applications should be emailed to yale.powwow@gmail.com by September 15th, 2017.
More information to come. Email yale.powwow@gmail.com with questions.
---
ANAAY Awards
Every conference, the Association of Native Americans at Yale honors two individuals: one Native alumnus whose achievements represent lasting, positive effects on Native communities, and one ally, Native or non-Native, who helped grow the Yale Native student community in quantity and in quality. Click here or go to Student Groups>ANAAY>Henry Roe Cloud Nomination Form to nominate an alumnus or friend of the community for the ANAAY awards. 
Past Winners
| | | |
| --- | --- | --- |
| Year | Distinguished Alumnus | Friend of the Community |
| 2005 | Sam Deloria '64 | Howard Lamar PhD '51 |
| 2008 | Chris McNeil grad '75 | Fred Danforth '73 |
| 2010 | Patricia Nez Henderson MPH '94, MD '00 | Alyssa Mt. Pleasant, former prof. of history |
| 2013 | Linc Kesler '71 | Peter Salovey, current Yale President |