Established in 1993, the Native American Cultural Center (NACC) promotes American Indian, Alaska Native, and Native Hawaiian culture and explores the issues that Native Americans face in today's world. The Center works to expose the Native community, as well as the greater Yale community, to Native American issues and culture by bringing programming to campus that includes events such as speakers, artist talks and installations, and conversations with leading Native intellectuals.
The Native American Cultural Center also serves as a gathering place for Yale's Native American students as well as other student groups. Students are encouraged to come to the NACC to study in its library, to use the conference rooms and lounges, its kitchen, or the Native living room and other spaces in the center.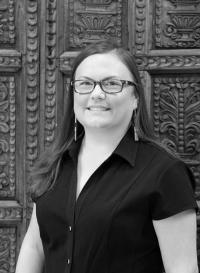 Kelly Fayard, Ph.D., Assistant Dean, Yale College, is the Director of the Native American Cultural Center. 
Dean Fayard is a member of the Poarch Band of Creek Indians in Alabama. She double majored in anthropology and religion at Duke University and went on to earn her Ph.D. in anthropology from the University of Michigan. Before coming to Yale, Dean Fayard taught anthropology for several years at Bowdoin College.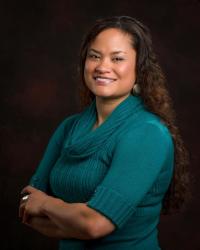 Photo Courtesy: Melissa Ponder
Kapiʻolani Alyce Laronal, M.A., Ed. is the Assistant Director of the Native American Cultural Center. She is Haida (Eagle), Tsimpsian (Killerwhale) and Native Hawaiian. Her undergraduate degree is the field of Sociology from the University of Washington, Seattle. She has a Master's Degree in Higher Education from the University of Michigan, Ann Arbor. She has worked for over 15 years in Higher Education. Her former positions were held at Dartmouth College, Northwest Indian College, Muckleshoot and Nisqually Tribes and Kamehameha Schools. 
I am honored to be on the land of the Quinnipiac people and I am excited at the opportunity to be able to get to know and work with the NACC students, community partners and allies across the Yale campus. Over the course of my career in the world of Student Affairs I have served a variety of Indigenous students from places that range from tribal colleges to language immersion schools to top tier universities. Through my experiences living and working with Native people, I have come to understand the ways that we develop and maintain our connections, as a People.
First, upon introducing ourselves we identify our lands or the region we are from. Aloha e, ko'u inoa, Kapi`olani Alyce Laronal. No Hawai'i a Haida Gwaii Eagle au.
Second, we tell others who our grandparents are. I am the granddaughter of Alyce & Julian Obrero Argel, as well as, Betty Ann Leilani and William Pila Laronal.
Across Turtle Island, to the far corners of the four directions this is the way that we introduce ourselves, it is the way that our grandparents and parents have always stayed connected with the present, past and future. As such, here at Yale, we can continue to carry on this tradition of connection, community and relationship building.
To our beaming class of 2020, whether this is familiar to you or you are just learning this, I have found that in connecting with all things new that this is always the perfect way to begin.
It is my hope, that through the inevitable growing joys and pains of our community, we remember who we are and never forget where we come from. It is also my hope that at every gathering, celebration, organizing meeting and planning space we can understand all that we do and all that we are here for in this way.