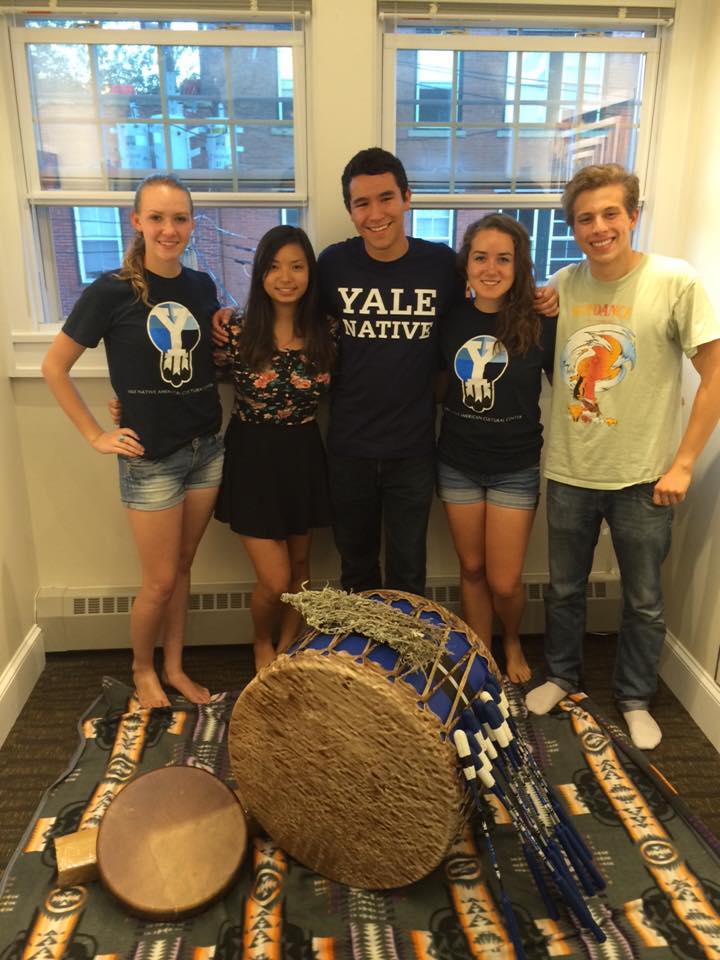 Blue Feather Drum Group is Yale's first American Indian performance group. Blue Feather showcases both traditional and contemporary drum music, fostering intertribal exchange, creating a welcoming space for cultural participation, and making Native presence heard on and off campus.
Questions? Contact christopher.alvord@yale.edu
---
 

Christopher Kodiak "Kodi" Alvord
President
Ezra Stiles ʻ17

Hometown: Page, Arizona

Major: Psychology
Tribal Affiliation: Navajo (Diné)

 

Kodi is heavily involved in the Native American Cultural Center, holding officer positions in ANAAY, AISES, Blue Feather Drum Group, and the Indian Health Initiative, as well as a position on the Cultural Center's Executive Board. He is a premed Psychology major, and he worked as an academic and personal mentor to local middle school students, with the goal of increasing high school graduation rates in New Haven. In his free time he enjoys classic rock, playing ukulele, running, and spending time with friends. He loves Yale, and considers the NACC his home within a home-away-from-home.

 

Katie McCleary, Baaapáaliksshitchish (Pretty Flower)
Women's Song Leader
Calhoun '18

Hometown: Two Leggins, Montana
Major: Undecided
Tribal Affiliation: Little Shell Tribe of the Chippewa Cree and Crow Nation

Katie is involved in Blue Feather Drum Group, Sisters of All Nations, the Women's Club Basketball Team, Calhoun College Council, St. Thomas Moore Church, Rainbow Girls, and Calhoun College Intramurals. A lover of traveling, movies, fashion, and music, Katie is most often found skimming the pages of Vogue or Time. She enjoys participating in volunteer work in her community and, most recently, has developed a passion for helping Native American high school students look beyond the borders of their reservations or communities to attend college.

 

Sebastian Medina-Tayac

Men's Song Leader
Davenport '16

Hometown: Takoma Park, Maryland
Major: American Studies
Tribal Affiliation: Piscataway Indian Nation

Sebi has been proud to participate in the huge expansion of the Native community at Yale since his freshman year. He's been an ANAAY member for three years and co-founded the Blue Feather Powwow drum group, currently serving as the lead singer. Outside of the NACC, he served as the president of the Ivy Native Council and community outreach coordinator for La Unidad Latina, Lambda Upsilon Lambda Fraternity, Inc., striving to generate solidarities and cultural connections between Native students and other people of color. He is active in the New Haven grassroots activist community, working with New Haven's Unidad Latina en Accion to empower immigrant and indigenous communities from elsewhere on Turtle Island. He works hard to maintain the spiritual and political traditions of his people in Maryland, and is working toward a career in nonfiction writing and videojournalism. He enjoys cooking, hip-hop, East Asian film, and plotting revolution.

 

Ashton Megli
Social Coordinator
Saybrook '18

Hometown: Mansfield, Texas

Major: Undecided
Tribal Affiliation: Choctaw Nation of Oklahoma

 

Ashton Megli is currently a freshman in Saybrook College. She likes to hike, run, do yoga, and spend time with friends and family. She is active in the Blue Feather Drum Group, the Association of Native Americans at Yale, and Yale Faith and Action. She is interested in pursuing a degree in science so that she can help protect the outdoor world that she loves.

 

Haylee Makana Kushi
Treasurer
Timothy Dwight '18

Hometown: Hilo, Hawaiʻi
Major: Ethnicity, Race and Migration
Tribal Affiliation: Native Hawaiian

 

Haylee is a current sophomore in the Native community. She is on the board of Blue Feather Drum Group, the Indian Health Initiative, and Sisters of All Nations. This is her second year working on the NACC House Staff and co-editing the Yale Native community newsletter. Haylee plans to pursue a career in advocating for Native Hawaiians and Hawaiian language education. In her free time, she enjoys Hawaiian crafts and Timothy Dwight college intramural sports.