Founded by John Bathke ('89), the Association of Native Americans at Yale (ANAAY) is a student-run political and cultural organization at Yale University designed to celebrate, educate, and appreciate Native cultures and histories. ANAAY is devoted to the establishment of a Native presence on Campus. The group works towards Indigenous cultural awareness of the Yale Community with a Native perspective through panels, speaker programs, and other events throughout the year, including our annual Indigenous Peoples' Day celebration, our powwow, and our participation in the Ivy Native Council. See the links below for information about some of our events! Join the Association of Native Americans at Yale for meetings in the NACC conference room on Wednesdays at 7pm, and contact our board members to learn more.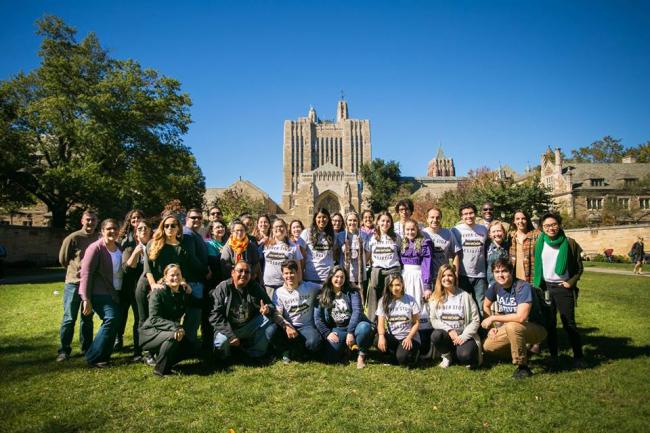 ANAAY Board 2016-2017
 
Haylee Makana Kushi

President
Timothy Dwight '18

Hometown: Hilo, Hawaiʻi
Major: Ethnicity, Race and Migration
Indigenous Nation: Kanaka Maoli

 

Haylee is a current senior in the Native community from Hilo, Hawai'i. This is her fourth year working on the NACC House Staff and co-editing the Yale Native community newsletter. She is a staff writer for DOWN magazine and enjoys journalism and other forms of writing. Haylee plans to pursue a career in advocating for Kānaka Maoli through Hawaiian language education. In her free time, she enjoys Hawaiian crafts and Timothy Dwight college intramural sports.

 

Alanna Pyke
Vice President
 Pauli Murray '19

Hometown: Akwesasne, New York
Major: Molecular, Cellular, and Developmental Biology
Indigenous Nation: Akwesasne Mohawk

Alanna is involved in Yale Sisters of All Nations and the Indian Health Initiative, the president of the American Indian Science and Engineering Society, and a participant in the STARS program, and occasionally other groups in the NACC. She likes to ski, ice skate, and play lacrosse in her spare time.

 
Adriana Colón

Secretary
Trumbull '20

 

Hometown: San Lorenzo, Puerto Rico
Major: Environmental Studies
Indigenous Nation: Taíno

Outside of ANAAY, Adriana is also involved in Yale Bee Space as a beekeeper on the campus farms and a member of Despierta Boricua, the Puerto Rican cultural organization on campus. She is also in charge of the Yale School of Forestry's weekly undergraduate newsletter. She is passionate about environmental conservation and social justice and plans to earn her law degree after her Bachelor of Science in environmental studies in order to pursue environmental policy and reform in the United States. Outside of work, she also enjoys watercolor painting and playing intramural sports, especially soccer.

 
Hannah Selwyn

Treasurer
Hopper '20

 

Hometown: Stevenspoint, Wisconsin
Major: Molecular, Cellular, and Developmental Biology
Indigenous Nation: Lakota

Hannah is a sophomore MCDB major on the pre-medical track. She served on the house staff of the NACC for her first year and will serve as a peer liaison her sophomore year. Outside of the NACC's student organizations, Hannah is interested in dance and is involved with Dwight Hall.

 
Matthew Motylenski

Social Outreach Coordinator
Trumbull '20

Hometown: Flushing, New York
Major: Undecided
Indigenous Nation: Mohawk, Bay of Quinte Band

 

Matt is a freshman who is actively involved in our community.  He serves as a Freshman Liaison for the Native American Cultural Center, and he is a member of the Association of Native Americans at Yale and the Indian Health Initiative. Also, he is on the Native American Heritage Month Committee and the Intercultural House Committee. He is committed to social justice, and he plans to attend law school so that he will be able to represent tribes in their pursuit of legal remedies.  When he is not studying, he is busy organizing social events to welcome students to Yale. He is the third bulldog in his family as he follows both his sister and his Mom, fellow Trumbullians. He enjoys stand-up comedy, dancing, baking, and working out at the gym.

 
Chase Warren

Brunch Coordinator
Berkeley '20

Hometown: Fort Yates, North Dakota
Major: Ethnicity, Race, and Migration (Prospective)
Tribal Affiliation: Hunkpapah Lakota

 

I'm Chase and I'm from Fort Yates, ND on the Standing Rock Sioux Reservation. I am Hunkpapa Lakota just like Sitting Bull, and I am the great grandson of the great holy man, Black Elk. I play trumpet in the Yale Precision Marching Band and am involved with ANAAY, IHI, and Blue Feather Drum Group (I'm not that good yet). I may major in MCDB but I am still undecided even though I got into the STARS 1 program just like 

Alanna

. I am in Berkeley College. My ultimate goal is to become a physician for the Indian Health Service in Fort Yates to serve my people. 

 
 
 
Indigenous Peoples' Day
http://downatyale.com/celebration-and-resistance-stories-from-indigenous…
http://yaledailynews.com/blog/2016/10/11/yale-celebrates-indigenous-peop…
Ivy Native Council
http://www.ivynativecouncil.org/
ANAAY Ivy Native Summit 2016
http://yaledailynews.com/blog/2016/11/11/yale-ivy-native-summit-centerin…
http://yaledailynews.com/blog/2016/11/07/yale-hosts-annual-ivy-native-su…
ANAAY Activism
http://yaledailynews.com/blog/2016/09/28/dakota-access-pipeline-discusse…