Yale Sisters of All Nations is Yale's first Native women's organization. YSAN is dedicated to creating a safe, supportive space for Native women on campus through open discussion of gender and sexuality issues in Indian Country, advocacy work, and networking/mentorship opportunities. It is a network open to all undergraduates, graduate students and alumni. 
Questions? Contact ashton.megli@yale.edu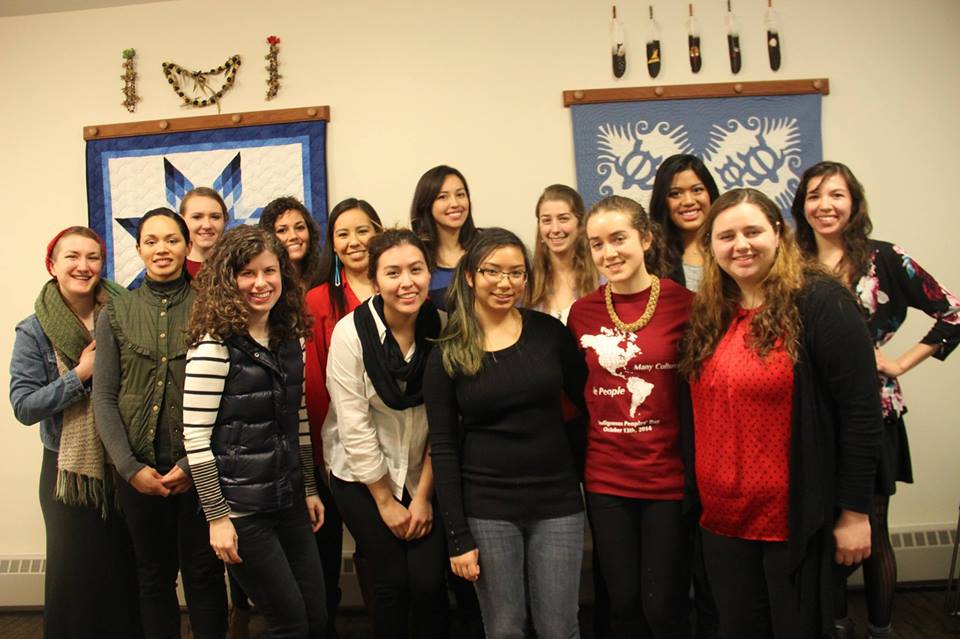 ---
 

Andrea Wiglesworth
Berkley '17

Hometown: Bonner Springs, Kansas
Major: Psychology
Tribal Affiliation: Seneca Cayuga Nation (Deer Clan)

This is Andrea's third year as a Peer Liaison for the Native community and is serving as head PL this year. Andrea also works in psychological research on emotion in the Affect Regulation and Cognition lab. This year she is completing her thesis on Prospective Memory and anxiety. She has also participated in Yale Danceworks as a choregorapher and publicity chair, Yale cheerleading, and is now the Publicity manager of the Alliance for Dance at Yale. Andrea loves being involved in the Native community through her role as a PL, student groups, and various other community activities. 

 

Haylee Makana Kushi
Treasurer
Timothy Dwight '18

Hometown: Hilo, Hawaiʻi
Major: Ethnicity, Race, and Migration
Native Nation: Kanaka Maoli (Native Hawaiian)

 

Haylee is a current junior in the Native community. She is on the board of the Association of Native Americans at Yale, Blue Feather Drum Group, the Indian Health Initiative, and Sisters of All Nations. This is her third year working on the NACC House Staff and co-editing the Yale Native community newsletter. She is also a staff writer for DOWN magazine and enjoys journalism and other forms of writing. Haylee plans to pursue a career in advocating for Native Hawaiian sovereignty and Hawaiian language education.

 
Katie McCleary, Baaapáaliksshitchish (Pretty Flower)
Mentorship Coordinator

Formerly Known as Calhoun '18

Hometown: Two Leggins, Montana
Major: History
Tribal Affiliation: Little Shell Tribe of the Chippewa Cree and Crow Nation

Katie aka Supernova is a junior History major in Formerly Known as Calhoun (FKAC) College. She hails from the bustling metropolis known as Two Leggins, Montana on the Crow Rez. Reppin' the Ashkaamne Clan and child of Ashshitchite Clan, she's the Head Women Singer of Blue Feather Drum Group and the President of the Association of Native Americans at Yale. She graces Yale with her Rez ball skillz as a co-captain for the Yale Women's Club Basketball team. She also holds it down for the FKAC College Council, Indian Health Initiative, Sisters of All Nations, and Student Advisory Board for the Center for the Study of Race, Indigeneity, and Transnational Migration (RITM). She indulges in poppin' out of small spaces and scaring the wits out of unknowing friends, and can be found modeling her mom's latest beadwork, people watching on cross campus, and unsuccessfully studying in coffee shops.

 

Hanna Sheridan
Events Coordinator
Trumbull '18

Hometown: Buffalo, New York
Major: History
Tribal Affiliation: Seneca Nation of Indians

I am so proud to be a member of the Yale Native community. I'm a history major and really enjoy taking native studies courses. I'm involved in a few different groups on campus like ANAAY, Trumbull College Council, and YHAAP. This is my first year as a peer liaison for the NACC, and I'm excited to be able to give back to a community that has meant so much to me. I am also a proud alumna of the Washington Internships for Native Students program at American University, where, like at Yale, I had the opportunity to study and work with native students from all over the country.

 

Alanna Pyke
Publicity and Outreach Coordinator
Timothy Dwight '19

Hometown: Akwesasne, New York
Major: Molecular and Cellular Biology
Tribal Affiliation: Mohawk

Alanna is involved in the Association of Native Americans at Yale as the Brunch Coordinator, a participant in the STARS program, and occasionally other groups in the NACC. She likes to ski, ice skate, and play lacrosse in her spare time.

 

Allison Tjemsland
Graduate Student Liaison
Law '17, (Berkley '11)

Hometown: Sequim, Washington

Tribal Affiliation: Jamestown S'Klallam

 

Allison is studying law with the goal of eventually working in Indian law and policy. She is a board member of the Native American Law Students Association and is the chair of Yale Law's Native Amicus Briefing Project. Before law school, she worked as a Peace Corps Volunteer, teaching chemistry and English in Mozambique. As an undergraduate, Allison was a member of both the Native American Cultural Center's Advisory Board and the Association of Native Americans at Yale's Executive Board.

 

Dinée Dorame
Faculty Advisor
Ezra Stiles ʻ15

Hometown: Albuquerque, New Mexico

Major: Women's, Gender, and Sexuality Studies

Tribal Affiliation: Diné (Navajo)

 

Dinée is a strong advocate for gender equality and hopes to increase discussion around issues facing women in Indian Country both within the NACC and the larger Yale community. She is the President/Founder of the Yale Sisters of All Nations - Native Women's Initiative and co-founder of Blue Feather Drum Group. She is a former Co-President of the Association of Native Americans at Yale and NACC House Staff member. She was also a Freshmen Counselor in Ezra Stiles and a Recruitment Coordinator at Yale Undergraduate Admissions. She now works as a Recruitment Officer for Yale College.