NACC Staff
Leadership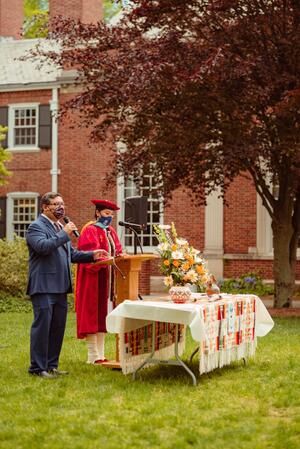 The director and the assistant director of the Native American Cultural Center work together to support Indigenous students and programming throughout the year. The director works with colleagues in the dean's office, while the assistant director works from an office located inside the NACC. 
Matthew Makomenaw, Ph.D., Assistant Dean, Yale College; Director of the Native American Cultural Center (he/him/his)

Dr. Matthew Makomenaw, is the Assistant Dean of Yale College, Director of the Native American Cultural Center, and a Trumbull Fellow. Matthew earned three degrees from Michigan State University: his Bachelor of Arts, in Psychology; his Master of Arts, in Higher, Adult, and Lifelong Education-Student Affairs; and his Ph.D., in Higher, Adult, and Lifelong Education. His dissertation focused on tribal college transfer student success at four-year Institutions. Over the course of his career, he has created and supported programs to help Native and Indigenous students make the transition to and thrive in college - including summer bridge programs, college access initiatives, pow wows, tribal outreach and student retention and success.

Diana Onco-Ingyadet, Ed.D., Assistant Director (she/her)  

(Click HERE to hear my name)

Dr. Diana Onco-Ingyadet is Navajo, Kiowa, and Comanche. Diana is of the Reed People Clan, and born for the Comanche Nation. Her maternal grandfather is of the Red Running into the Water Clan, and her paternal grandfather is of the Kiowa Nation. Diana grew up in Norman, OK, but her maternal family is from Monument Valley, UT.

 Diana received her bachelor's degree in Applied Indigenous Studies from Northern Arizona University. She received her master's degree in Higher and Post-secondary Education from Arizona State University. Diana successfully defended her dissertation in December of 2019 in Organizational Change and Leadership from the University of Southern California. Diana's dissertation research focused on Native American/Alaska Native graduation rates and student affairs at a public university.

Dr. Onco-Ingyadet is also an instructor for the Ethnicity, Race, and Migration department and a Pierson Fellow.
Native American Cultural Center
26 High Street
New Haven, CT 06520
Phone: 203-432-8887
Hours
Monday-Thursday: 4:00PM - 10:00PM
Friday: 4:00PM - 8:00PM
Other times by appointment
The Native American Cultural Center is currently closed to the public; ONLY current Yale students, faculty, and staff are allowed in the building. For more information please email either Dean Makomenaw or AD Onco-Ingyadet.
To learn more about the Yale Indigenous community feel free to follow us our social media: