Association of Native Americans at Yale (ANAAY)
Founded by John Bathke ('89), the Association of Native Americans at Yale (ANAAY) is a student-run political and cultural organization at Yale University designed to celebrate, educate, and appreciate Native cultures and histories. ANAAY is devoted to the establishment of a Native presence on Campus. The group works towards Indigenous cultural awareness of the Yale Community with a Native perspective through panels, speaker programs, and other events throughout the year, including our annual Indigenous Peoples' Day celebration, our powwow, and our participation in the Ivy Native Council. See the links below for information about some of our events! Join the Association of Native Americans at Yale for meetings in the NACC conference room on Wednesdays at 7pm, and contact our board members to learn more.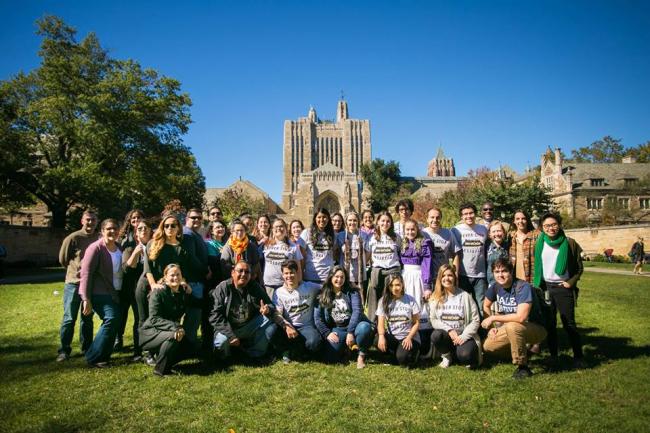 ANAAY Board 2018-2019
Gabriella Blatt
President
Ezra Stiles '19

Hometown: Rocky Boy Reservation, Montana
Major: Ethnicity, Race, and Migration and English 
Indigenous Nation: Chippewa-Cree

Gabriella is a second-year in Ezra Stiles College. She is majoring in English and Ethnicity, Race, and Migration, with plans to study environmental literature and its intersections with environmental justice. Outside of ANAAY Gabriella is involved with Fossil Free Yale and the Yale Environmental Humanities Initiative. In her free time, she loves to watch stand-up comedy and drink iced coffee.

Matthew Motylenski

Vice President
Trumbull '20

 

Hometown: Flushing, Queens, New York
Major: Ethnicity, Race, and Migration
Indigenous Nation: Tyendinaga Mohawk

More to come!!

Anna Smist

Treasurer
Branford '21

 

Hometown:
Major: 
Indigenous Nation:

More to come!!

Jay Fife

Secretary
Davenport '22

 

Hometown: Beggs, Oklahoma
Major: Undecided
Indigenous Nation: Mvskoke (Creek), Apsaalooke (Crow), Chickasaw

Indian Name: Isbaaaliichiwee Baatchachish

Jay Fife is a first-year Mvskoke student from Beggs, Oklahoma. He plans to major in linguistics and/or anthropology. Jay was elected to Yale First Year College Council as the Davenport representative. He is also a member of the Association of Native Americans at Yale. Most of the time you can find Jay at the Native American Cultural Center, if he's not in his dorm room. Whenever Jay has free time, he enjoys speaking his tribal language, singing stomp dance songs, and missing home. 

Kinsale Hueston

Outreach Coordinator
Timothy Dwight '22

 

Hometown: 

Corona del Mar, California

Major: 

Undecided

Indigenous Nation: 

Diné/Navajo

 

Kinsale is a first-year in Timothy Dwight College. She is planning on majoring in English and receiving an Advanced Language certification in Spanish. Outside of ANAAY, she is involved with the poetry performance group WORD, First-Year Class Council, Yale Daily News Magazine, and Yale Literary Magazine. In her free time she enjoys collecting beaded earrings, playing ukulele, and not cutting her hair.

Madison Murphy

Graphic Design
Johnathan Edwards '22

Hometown: 

Rapid City, South Dakota

Major: 

…psychology? …environmental studies? …education?

Indigenous Nations: 

Hidatsa (Three Affiliated Tribes)

 

 

Maddie is a first year from the Black Hills of South Dakota. Although she does not have a concrete idea on exactly what she wants to major in, she is either looking into a pre-law or pre-med track. Outside of ANAAY, Maddie is involved in music, playing the oboe in YCB and D'Pops, and she plans to join the drumline in the winter. She serves as a first-year representative in JECC and is a master of unsolicited puns.

 

Meghan Gupta

Brunch Coordinator
Berkeley '21

Hometown: 

Ann Arbor, MI

Major: Indigenous Nation: 

Sault Ste. Marie Tribe of Chippewa Indians

 

Meghanlata (Meghan) Gupta is a sophomore in Morse College double majoring in Anthropology and History of Science, Medicine, and Public Health. Outside of her House Staff position, Meghan is a writer for the Yale Human Rights Journal, a member of ANAAY, a Splash! at Yale teacher, and a FOCUS on New Haven leader. In her free time, she enjoys spending time with friends, reading, and trying out new restaurants in New Haven!
Indigenous Peoples' Day
http://downatyale.com/celebration-and-resistance-stories-from-indigenous…
http://yaledailynews.com/blog/2016/10/11/yale-celebrates-indigenous-peop…
https://yaledailynews.com/blog/2017/10/10/yale-community-celebrates-indi…
Ivy Native Council
http://www.ivynativecouncil.org/
ANAAY Ivy Native Summit 2016
http://yaledailynews.com/blog/2016/11/11/yale-ivy-native-summit-centerin…
http://yaledailynews.com/blog/2016/11/07/yale-hosts-annual-ivy-native-su…
ANAAY Powwow and Henry Roe Cloud Conference 2017
https://yaledailynews.com/blog/2017/11/13/native-americans-celebrate-at-…
ANAAY Activism
https://yaledailynews.com/blog/2018/01/23/students-seek-native-language-…
http://yaledailynews.com/blog/2016/09/28/dakota-access-pipeline-discusse…
https://yaledailynews.com/blog/2017/10/02/whip-sheet-incites-controversy/
https://yaledailynews.com/blog/2017/10/30/anaay-calls-for-stronger-whip-…