Native and Indigenous Student Association at Yale
Founded by John Bathke ('89), the Association of Native Americans at Yale (ANAAY) is a student-run political and cultural organization at Yale University designed to celebrate, educate, and appreciate Indigenous cultures and histories. ANAAY is devoted to the establishment of an Indigenous presence on Campus. The group works towards Indigenous cultural awareness of the Yale Community with a Native perspective through panels, speaker programs, and other events throughout the year, including our annual Indigenous Peoples' Day celebration, our powwow, and our participation in the Ivy Native Council. See the links below for information about some of our events! Join the Association of Native Americans at Yale for meetings in the NACC conference room on Wednesdays at 7:30pm, and contact our board members to learn more.
In 2021, the the organization known as ANAAY underwent a significant name change stewarded by the students themselves with input from the Yale and New Haven community. Details about this historic change can be found in an article written by the co-president of ANAAY in 2021, Hema Patel. The article can found here: http://www.broadsatyale.com/indigenous-peoples-month-2021/#:~:text=On%20… under "On Becoming NISAY."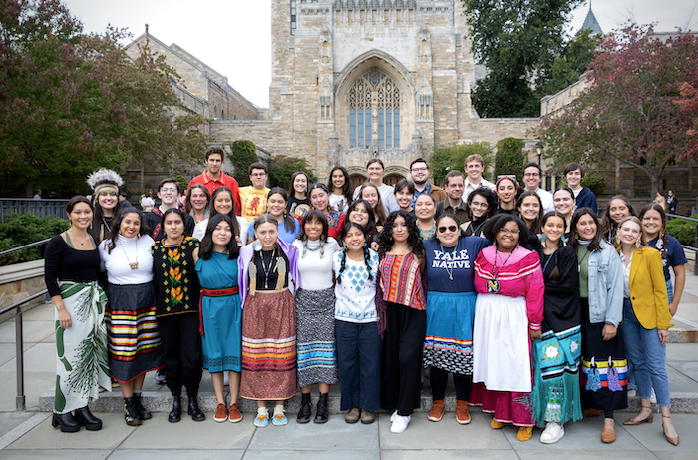 NISAY Members at 2022 Indigenous Peoples' Day Celebration
NISAY Board 2022-2023
Mara Gutierrez (Pierson '25)

Co-President

Hometown: 

Killeen, Texas

Major: 

Undecided

Indigenous Nation: 

Diné / Navajo

Pronouns: she/her

Hello! I'm Mara. I am a prospective History and/or Chemistry major. I am in Red Territory (RT) as well as NISAY. You can often find me at the NACC anytime I don't have class or have to leave to eat. I have three cats, a lot of stuffed animals, and a food plug. I'm always here to lend an ear.

Truman Pipestem (Morse '24)

Co-President

Hometown: 

Skiatook, Oklahoma

Major: 

Humanities

Indigenous Nation: 

Eastern Band of Cherokee Indians, Osage Nation, Otoe-Missouria Tribe

Pronouns: He/Him

 

Truman is a sophomore in Morse College from Skiatook, Oklahoma. He previously served as an NACC First-Year Liaison before joining House Staff. Within the Yale Native community, Truman is the president of Red Territory and an ANAAY bonding coordinator. Outside of the NACC, Truman is a member of the Lux Improvitas Improv Comedy Troupe. In his free time, Truman can be found unwinding in the NACC, participating in Morse IMs, or watching cartoons. 

Megan Blackwell (Silliman '25)

Connecticut Liaison

 

Hometown: Albuquerque, New Mexico

Major: Undecided

Indigenous Nation:  Chickasaw, Choctaw, Omaha, Muscogee

Pronouns: she/her

 

Megan is a first year in Silliman College. She is interested in studying History and Cognitive Science. Outside of the NACC, Megan is involved with Yale Dems, Yale Undergraduate Legal Aid Association, and Yale Outdoors. In her free time she enjoys watching Liverpool FC games, unwinding in the Acorn, and learning Chickasaw.
Indigenous Peoples' Day
http://downatyale.com/celebration-and-resistance-stories-from-indigenous…
http://yaledailynews.com/blog/2016/10/11/yale-celebrates-indigenous-peop…
https://yaledailynews.com/blog/2017/10/10/yale-community-celebrates-indi…
Ivy Native Council
http://www.ivynativecouncil.org/
ANAAY Ivy Native Summit 2016
http://yaledailynews.com/blog/2016/11/11/yale-ivy-native-summit-centerin…
http://yaledailynews.com/blog/2016/11/07/yale-hosts-annual-ivy-native-su…
ANAAY Powwow and Henry Roe Cloud Conference 2017
https://yaledailynews.com/blog/2017/11/13/native-americans-celebrate-at-…
ANAAY Activism
https://yaledailynews.com/blog/2018/01/23/students-seek-native-language-…
http://yaledailynews.com/blog/2016/09/28/dakota-access-pipeline-discusse…
https://yaledailynews.com/blog/2017/10/02/whip-sheet-incites-controversy/
https://yaledailynews.com/blog/2017/10/30/anaay-calls-for-stronger-whip-…