History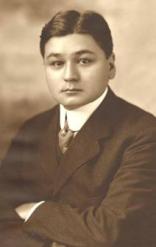 Henry Roe Cloud (Winnebago) became Yale's first Native American graduate in 1910. He went on to become a prominent educator and national advocate for Native American people. Following his graduation, the Native student population remained sparse, and relatively unorganized. In 1989, John Bathke (Diné), class of 1993, founded the Association of Native Americans at Yale (ANAAY), the first official group dedicated to Native Students. The goals of the group at that time included attracting Native American professors and scholars to visit and teach at Yale; an expansion of course offerings to include Native American history and cultural studies; an increase in Native American recruitment and support from the administration; and a permanent headquarters for the group.
Following ANAAY's founding, Dean Shannon Salinas gave ANAAY a room in what was then the Chicano Cultural House. As it is told in what is now community lore, members of ANAAY put up a sign that said "Native American Cultural Center." It wasn't long before the Yale administration started referring to the NACC, and it was formally established in 1993. The one room allocated to the NACC/ANAAY grew to three, and then five, in the NACC's location at 295 Crown St, in a house shared with the Asian American Cultural Center.
In the two decades since ANAAY's founding, almost all of its goals have been realized. ANAAY and the NACC have hosted several national conferences and brought in scholars and leaders from all over the world to speak on Native issues. In 2007, Shelly Lowe was hired as an Assistant Dean in Yale College, and the first Director of the Native American Cultural Center. Ted Van Alst was hired as the second director in 2010, followed by Interim Director Chris Cutter. Today, the NACC is led jointly by Director Kelly Fayard, PhD., and Assistant Director Kapiʻolani Laronal. Since the founding of the NACC, the number of Native students has grown tremendously; the Yale Class of 2015 includes 40 Native American students, the largest class of Native students attending any Ivy League institution. Yale's faculty offer several courses on American Indian history, art, literature, law and ecology. Every four years, the Yale Native Community celebrates the legacy of Native American people at Yale with the Henry Roe Cloud Conference. In the fall of 2011 it was announced that the NACC would receive its own building at 26 High Street. The new building opened in the fall of 2013.
The Indigenous community at Yale has come a long way since Henry Roe Cloud arrived in 1910, but we are dedicated to continuing to expand our community until Yale is the most sought after institution for Native American students, scholars, and allies.