Yale Sisters of All Nations
Yale Sisters of All Nations is Yale's first Native women's and feminist organization. YSAN is dedicated to creating a safe, supportive space for Native women on campus through open discussion of gender and sexuality issues in Native communities, advocacy work, and networking/mentorship opportunities. It is a network open to all undergraduates, graduate students, and alumni. Every year we host networking events for Native women in the undergraduate and graduate student communities and participate in the international campaign to raise awareness for Missing and Murdered Indigenous Women on February 14th.
Questions? Contact matthew.motylenski@yale.edu.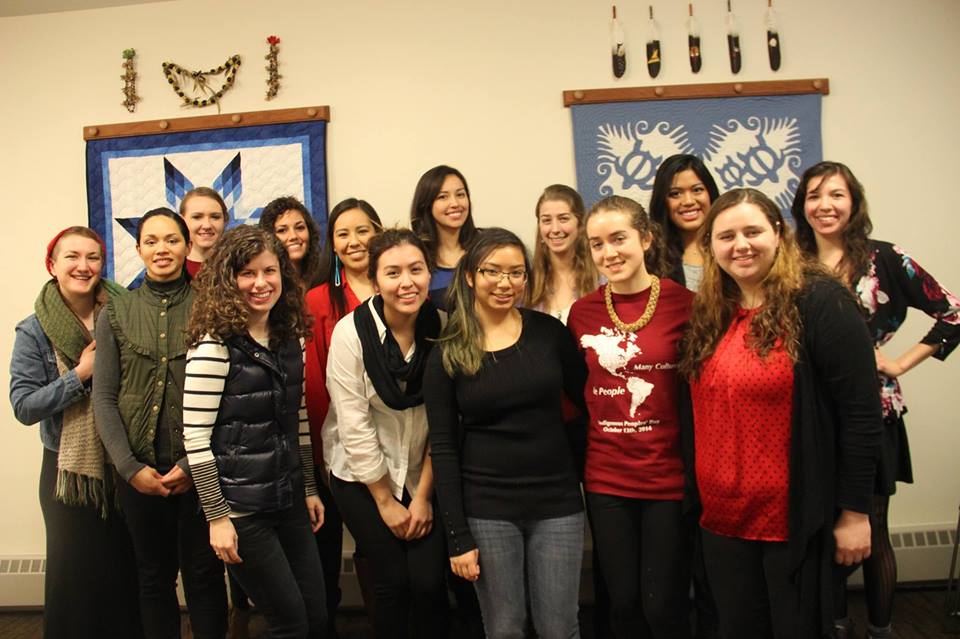 ---
 
Matthew Motylenski
President

Trumbull '20

Hometown: Flushing, New York                                                                              

Tribal Affiliation: Mohawk, Bay of Quinte Band

 

Matt is a sophomore who is actively involved in our community.  He serves on Native American Cultural Center, and he is a member of the Association of Native Americans at Yale and the Indian Health Initiative. Also, he is on the Native American Heritage Month Committee and the Intercultural House Committee. He is committed to social justice, and he plans to attend law school so that he will be able to represent tribes in their pursuit of legal remedies.  When he is not studying, he is busy organizing social events to welcome students to Yale. He is the third bulldog in his family as he follows both his sister and his Mom, fellow Trumbullians. He enjoys stand-up comedy, dancing, baking, and working out at the gym.

 

 
Paige Johnson
Treasurer

Hopper '20

Hometown: ​Blackfeet Reservation, Montana                                                              Tribal Affiliation: Blackfeet, Navajo

Paige is a second year in the Native community. She's interested in pre-medical studies. In her free time, Paige enjoys playing the clarinet in the Yale Precision Marching Band.

 
Sita Strother
Outreach Coordinator

Morse '20

Hometown: Washington Grove, Maryland

Native Nation: Blackfeet

Sita is a second-year morsel in the Yale Native community. She studies global affairs and public health, with a focus on women's health equity. When she's not in class or hanging around the NACC, Sita works on the curriculum for Community Health Educators and sings with the New Blue of Yale. She is also an aspiring salsa dancer!

 

Haylee Makana Kushi
Treasurer
Timothy Dwight '18

Hometown: Hilo, Hawaiʻi
Major: Ethnicity, Race, and Migration
Native Nation: Kanaka Maoli (Native Hawaiian)

 

Haylee is a current senior in the Native community. She is on the board of the Association of Native Americans at Yale, Blue Feather Drum Group, the Indian Health Initiative, and Sisters of All Nations. This is her third year working on the NACC House Staff and co-editing the Yale Native community newsletter. She is also a staff writer for DOWN magazine and enjoys journalism and other forms of writing. Haylee plans to pursue a career in advocating for Native Hawaiian sovereignty and Hawaiian language education.

 

Dinée Dorame
Faculty Advisor
Ezra Stiles ʻ15

Hometown: Albuquerque, New Mexico

Major: Women's, Gender, and Sexuality Studies

Tribal Affiliation: Diné (Navajo)

 

Dinée is a strong advocate for gender equality and hopes to increase discussion around issues facing women in Indian Country both within the NACC and the larger Yale community. She is the President/Founder of the Yale Sisters of All Nations - Native Women's Initiative and co-founder of Blue Feather Drum Group. She is a former Co-President of the Association of Native Americans at Yale and NACC House Staff member. She was also a Freshmen Counselor in Ezra Stiles and a Recruitment Coordinator at Yale Undergraduate Admissions. She now works as a Recruitment Officer for Yale College.